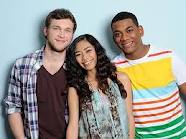 Learn Chinese - How to say - May I please ask who do you predict will win American Idol 2012?
请问你预测谁会赢得二零一二年美国偶像?
qǐngwèn nǐ yùcè shéi huì yíngdé èr líng yī èr nián Měiguó ǒuxiàng ?
qǐngwèn ( 请 qǐng means please, 问 wèn means ask, qǐngwèn means may I please ask) nǐ (你 pronoun, you) yùcè (预测 verb, predict) shéi (谁 question pronoun, who) huì (会auxiliary verb, will) yíng (赢 verb, win) dé (得 particle usually put after a verb) èr líng yī èr (2012) nián (年 noun, year) Měiguó (美国 proper noun, American) ǒuxiàng (偶像 noun, idol) ?
This year is Idol's season 11, with Joshua Ledet, Jessica Sanchez and Phillip Phillips as the top 3 contestants. Tonight, Joshua Ledet got eliminated. Let's see what the viewers said about the elimination and the coming finale.
Viewers' reaction 观众的反映 guānzhòng de fǎnyìng :
Viewer number 1: Completely stunned. How does someone with a voice like Joshua get eliminated from ANY singing competition!!!
In Chinese, we have an idiom called 大吃一惊 which means got shocked or startled or gob-smacked. If this viewer knew Chinese, he might say
Joshua 被淘汰真使我大吃一惊啊。
Joshua bèi táotài zhēn shǐ Wǒ dàchīyījīng ā .
See the full post and other viewers' fun reaction and learn Chinese with audio recording -- http://www.chinesetolearn.com/?p=4256