Looking for a good self-study Chinese book? Read this review from Andrej8.

Integrated Chinese, Level 1 Part
1 Textbook
by Yuehua Liu
While attempting to engage in self study for over a year a half
I've been through quite a lot of books attempting to teach Chinese,
from Chinese for Dummies, travel dictionaries, dirty phrase
handbooks, as well as a few textbooks out of China. But I was
pleasantly surprised when I received my first Mandarin textbook for
UMASS Boston.

This is THEE BOOK!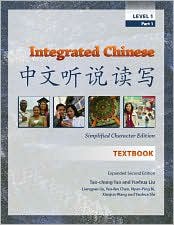 + It's written clearly
+ puts emphasis on reading characters
+ explains all the grammar
+ usefull vocabulary
+ and the dialogs don't sound too flaky

I highly recommend this text, even if you aren't currently enrolled
in a mandarin class this is by far one of the best resources you
can get you hands on.


Find this book Integrated Chinese on Barnes&Noble



Are you looking to study Chinese characters? 汉字?

Read our recommendations
for studying chinese characters here.

Or click here to see the top rated Kindle
Chinese Language Book.-->