Is Rosetta Stone for Chinese worth it? Read our review of Rosetta Stone Chinese.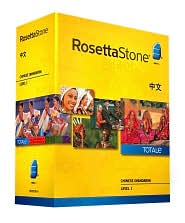 Rosetta Stone V4 TOTALe: Chinese (Mandarin) Level 1

Rosetta Stone is not for everyone. Some
people like it, other people don't find it effective. I have used
it for Spanish, Portuguese and for Mandarin Chinese.
Benefits:
+ Easy to use
+ Feels less like studying than a book
+ Goes well with a beer
Negatives:
- Kind of expensive
- Have to be at a computer
- Hard to start with for Chinese

If you have not used Rosetta Stone's method before, I would suggest
a demo or borrowing from a friend for any language. If you like it
then I think it's a good idea to buy it for Mandarin Chinese.
Ultimately I think you can learn a lot through their teaching
method but you have to be patient. It's not a magic
bullet.

Find Rosetta Stone Chinese on Barnes&Noble

Or are you looking for something else? Here are some sponsorsed links: